Tonight is the 27th Lambda Literary Awards, an annual event that honors LGBTQ literature in categories from transgender fiction, to lesbian poetry to gay erotic, to the very recent category of LGBTQ graphic novel! Hosted by Kate Clinton, attendees this year include Alison Bechdel (Fun Home musical number included!), Gloria Steinhem, Alan Cumming, and more!
Last year's winner (and first winner) for graphic novel was Nicole Georges for Calling Dr.Laura: A Graphic Memoir.
Here are this year's finalists for LGBTQ Graphic Novels!
1. 100 Crushes by Elisha Lim

100 Crushes is a compilation of the Elisha Lim's queer comics, zines, and travels over five years along with some new material as well. The Toronto-based artist paints a personal portrait of themself and of LGBTQ people of color. You can see a preview here.
2. Band Vs. Band Comix Volume 1 by Kathleen Jacques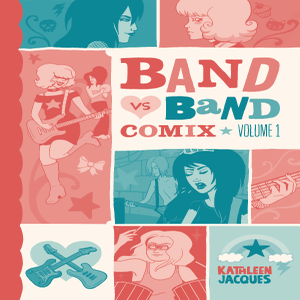 Band Vs. Band is a comic about The Candy Hearts, a band that believes in "love and world peace and ice cream sodas" and their rivalry/romance with a second band, The Sourballs. It's a webcomic that recently got its first print volume, check it out here!
3. Pregnant Butch: Nine Long Months Spent in Drag by A.K. Summers

"Can butches even get pregnant?" Pregnant Butch, a graphic novel based off of A.K. Summers' own preganancy, follows Teek Thomasson who is pregnant for the first time and her femme girlfriend Vee. The memoir explores pregnancy, birth, and gender in interesting and unconventional ways. Check it out!
4. Second Avenue Caper: When Goodfellas, Divas and Dealers Plotted Against the Plague by Joyce Brabner, Illustrated by Mark Zingarelli

Second Avenue Caper is "the true story of a tight-knit group of artists and activists living in New York City in the early 1980s who found themselves on the front lines in the fight against AIDS." Alongside award-winning illustrator Mark Zingarelli, Second Avenue Caper provides a compelling image of the AIDS epidemic. Also a winner of A Village Voice Best Graphic Novel of 2014.
5. Snackies by Nick Sumida

Snackies is a collection of gag comics about Sumida's experiences as a millennial gay man in New York. It's funny, clever, and entertaining. You can read a 12 page excerpt of it online!
6. Honourable mention: Titles that were submitted but didn't make the finals
[Death Defying] by Near Enemy

Adrian and the Tree of Secrets by Hubert and Marie Caillou

Family Portraits by Samuel Orchard

Fearful Hunter by Jon Macy

Fishermans Lodge by Gengoroh Tagame

Massive: Gay Japanese Manga And The Men Who Make It edited by Anne Ishii, Graham Kolbeins, and Chip Kidd

More and more of you by Takeshi Matsu

On Loving Women by Diane Obomsawin

Smut Peddler: 2014 Edition by Various Hands

Tomboy: A Graphic Memoir by Liz Prince

War of Streets and Houses by Sophie Yanow
Have you read any of the titles? Have you found something to put on your "to read" list?
—Please make note of The Mary Sue's general comment policy.—
Do you follow The Mary Sue on Twitter, Facebook, Tumblr, Pinterest, & Google +?
Have a tip we should know? [email protected]